X4ToDo
X4ToDo is a collection of tools for freelancers, a complex web application with many interesting features.
Initially I made a prototype written in Ruby using the MVC framework Nitro. After the death of the project Nitro I decided to rewrite it in PHP. I wrote a quick version using X4 WebApp and X3 CMS. After three months of work, the project went on line at the end of the 2010.
My old plan was to write a desktop application connected to the web application but I had no time for that.
In subsequent years I collected a lot of ideas for new features to add to X4Todo, so the new plan is to rewrite it.
In the late 2014 I released a new version of X3 CMS and I thought it was the time to reopen this project, but a new big project took all my time.
The service is still active and I use it for my daily work. You can try it with the demo user.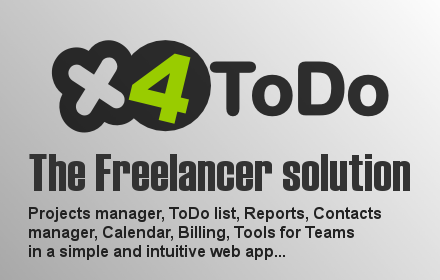 Status of the project
This project is in stand by.
Latest version 1.1 - 02/02/2011
Main features
Project manager
ToDo list
Reports
Contacts manager
Calendar
Billing
Tools for teams
I'm looking for lenders
The rewrite of the web application will require, more or less, four months. Then it will need an hosting solution and a lot of marketing work. I can't do all alone.
I'm thinking to try with a crowdfunding platform.
If you are interested and would to join this adventure then, please, come forward.